Michelle David & The True-tones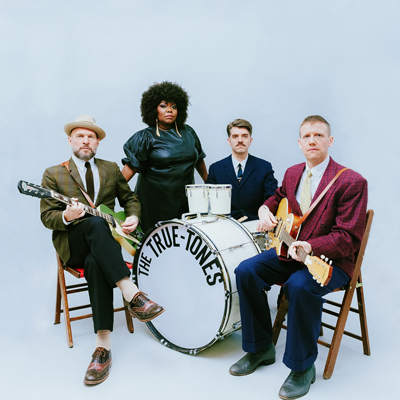 Michelle David & The True-tones zijn terug – van nooit weggeweest. Want, voorheen stonden The Gospel Sessions achter het indrukwekkende stemgeluid van Michelle David, die nu verder gaan als The True-tones.
Tekst Louis Nouws; Foto Jonathan Hielkema
Maar met The True-tones kleurt de muziek net iets meer soul en indie dan in de vorige incarnatie. Op het aanstaande album Truth & Soul dat op 29 april verschijnt, klinken niet alleen de invloeden uit Brazilië of van dromerige jaren zeventig soul, blues en jazz tot zelfs Afrikaanse ritmes, maar ook hedendaagse pop en r&b. De nieuwe single You Can Make It geeft al veel prijs van deze invloeden, met de Ivoriaanse Grammy-award winnaar Dobet Gnahoré als duetpartner.
Michelle David: "Dobet Gnahoré is the gift that keeps on giving. Hearing her sing in her native tongue was a blessing. I see we are spiritual sisters that was given the opportunity to connect."

Met de beoogde plannen voor het nieuwe album was de in New York geboren zangeres aanvankelijk wat ongerust. "I didn't think I had anything else to say, especially since nothing dramatic was happening in my current life. But again, the honesty of the music spoke to me and positivity became the angle. I have never felt so free. When the guys agreed to sit down without a rehearsal and sing/record whatever came to mind for the song Wait... so much beauty emerged. A personal highlight."
De chemie tussen Michelle David en True-tones Onno Smit, Paul Willemsen en Bas Bouma bleek weer als vanouds. "I really appreciate how much they trusted me".
Naast het duet met Dobet Gnahoré is ook Lilian Vieira (Zuco 103) te horen op de plaat: "It felt like a breath of fresh air had just swept through the room. Sharing this song with Lilian was definitely the diamond that beautified the crown."
Dat het nieuwe album weer een stap vooruit is blijkt wel uit de liner notes, geschreven door niemand minder dan Craig Charles, dj van de middagshow bij BBC 6 Music, en befaamd om zijn wekelijkse Funk & Soul show: "If you love soul music because it fills your world with colour and joy, then YOU NEED THIS ALBUM!"
De formatie rond Michelle David bracht al eerder vijf albums uit, met een Edison-nominatie en vele televisieoptredens tot gevolg, recentelijk nog als huisband bij de Studio Sport uitzendingen rond de Olympische Winterspelen. De komende maanden zijn Michelle David & The True-tones volop te zien op de Nederlandse podia.

Michelle David & The True-tones live: zie voor data en locaties www.michelledavidandthetruetones.com.